Map of Larissa- Greece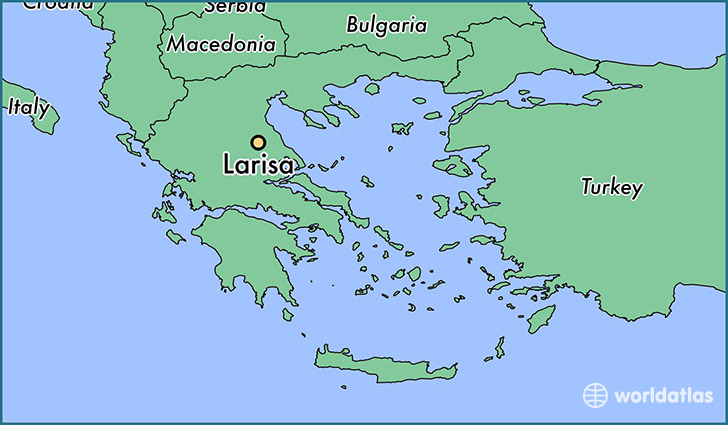 Larissa is the capital and largest city of the Thessaly region, the fifth most populous in Greece and capital of the Larissa regional unit. It is a principal agricultural centre and a national transportation hub, linked by road and rail with the port of Volos, the cities of Thessaloniki and Athens. Larissa, within its municipality, has 162,591 inhabitants, while the regional unit of Larissa reached a population of 284,325 (in 2011). The urban area of the city, although mostly contained within the Larissa municipality, also includes the communities of Giannouli, Platykampos, Nikaia, Terpsithea and several other suburban settlements, bringing the wider urban area population of the city to about 174,012 inhabitants and extends over an area of 572.3 km2 (221.0 sq mi). Legend has it that Achilles was born here. Hippocrates, the Father of Medicine, died here. Today, Larissa is a major commercial and industrial centre in Greece.
Population
Larissa (Greek Λάρισα) (Population: 200.000 (2011)) is the 4th biggest city in Greece capital of Prefecture of Larissa and region of Thessaly. Larissa is from Athens (355 km) and Thessaloniki (150 km).
Language: Greek
Currency
The currency used in Greece is the Euro (EUR).
Geography
There are a number of highways including E75 and the main railway from Athens to Thessaloniki (Salonika) crossing through Thessaly. The region is directly linked to the rest of Europe through the International Airport of Central Greece located in Nea Anchialos a short distance from Larissa. Larissa lies on the river Pineios.
The municipality Larissa has an area of 335.98 km2, the municipal unit Larissa has an area of 122.586 km2, and the community Larissa has an area of 88.167 km2.
The Larissa Chasma, a deep gash in the surface of Dione, a natural satellite of Saturn, was named after Larissa.
Climate
The climate of Larissa is transitional. The winter is cold and wet, and some snowstorms may occur. The summer is hot, and temperatures of 40 °C (104 °F) may occur. Thunderstorms or heavy rain may cause agricultural damage. Larissa receives 450 mm (18 in) of rain per year.
Transport
Larissa sits in the middle of the plain of Thessaly, with connections to Motorway A1 and national roads EO3 and EO6.
Larissa's Urban Bus System
Larissa's Interurban System
Larissa Central Railway Station at 39°37′46″N 22°25′22.2″E
Mezourlo Freight Railway station at 39°37′08″N 22°24′30″E
Larissa Airport
Larissa Tram (planned)